HMAS Voyager (1918)
For over 10 years these ships were the frontline destroyers of the Australis Navy. With completion dates from 1918-1923 the 16 ships of the Australian VW class were built at a more leisurely rate than their British compatriots and so lasted longer in service. All of the class carried the 4 x 4" armament, none had the 4.7" fitted to some British VW's.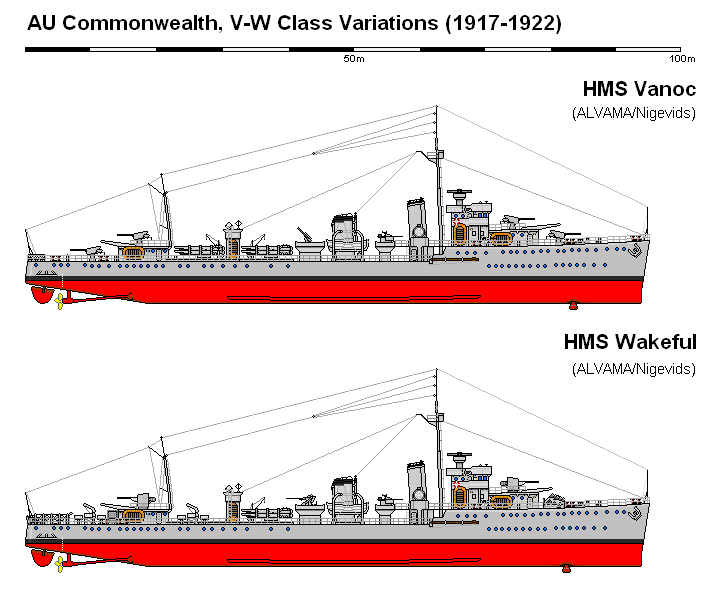 Starting in 1937 the ships were taken in hand for modification to Destroyer escorts of either an AA type or as long range escorts. Not all of the class had had their refurbishments by the time the war broke out and so the ships ended up in 4 groups as shown by the silhouettes. Group 1 were as completed - 2 ships remained in this condition as they were early war losses to aircraft. Group 2 were quick conversions with 1 set of tubes replaced with AA weapons and 1 x 4" removed from aft to increase the depth charge stowage and handling area. 3 ships were in this condition through the war.
Displacement
1200 tons std, 1550 tons full load
Length
312 ft
Breadth
30 ft
Draught
15 ft
Machinery
2 shaft steam turbines, 27,000shp
Speed
34 knots (GP3 24 knots)
Range
3000 miles at 15 knots (except Gp3 6000)
Armour
nil
Armament
2 to 6 x 4" (2x1 to 3x2)

various 40mm and 20mm as fitted.

Aircraft
nil
Torpedoes
6x21" (2x3) to nil (removed)
Complement
120-134
Notes
HMAS Voyager

HMAS Vendetta

HMAS Whitewood

HMAS Waitemata

HMAS Maryborough

HMAS Wilmington

HMAS Venus

HMAS Vixen

HMAS Windora

HMAS Wingham

HMAS Winton

HMAS Willcania

HMAS Wickham

HMAS Waiheke

HMAS Walkerton

HMAS Mudgee
Group 3 were full conversions to Long range escorts. All 4 of the older 4" being removed and rebuilt into AA mountings with shields. 2 being remounted in B and X positions where they were least affected by weather. One boiler room was emptied and sealed to use as extra fuel stowage. One set of torpedoes are removed and much greater depth charge handling and stowage areas were provided. A hedgehog forward throwing spigot bomb mounting was placed in A position. The spare bombs being stored in the superstructure under B mounting. 5 units had received this conversion.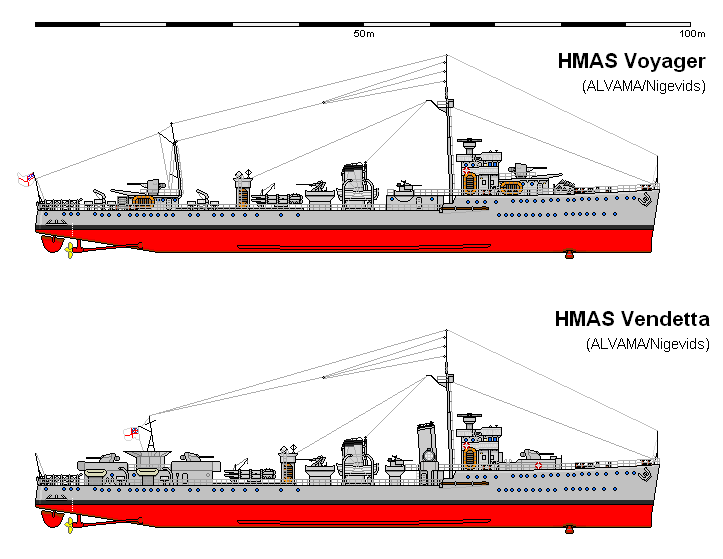 Group 4 was the most ambitious project being a conversion to an AA escort. The main armament became 6 x 4" and these were mounted in tubs in A, X and Y positions. Light AA armaments were fitted between the funnels and where the torpedo tubes had been removed from. 6 ships of the class had received this conversion prior to the outbreak of war.